Dan is a stickman who loves games like Stealing the Diamond, Minecraft, and other things too! His hobbies include: Playing video games, going for walks, and working at a restaurant (as a cook!)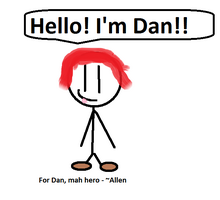 Trivia:
The fan image on the right uses Stickman's image as a base.
You can see him if you go onto certain games.
His Minecraft skin has more coloring than his drawing.
Ad blocker interference detected!
Wikia is a free-to-use site that makes money from advertising. We have a modified experience for viewers using ad blockers

Wikia is not accessible if you've made further modifications. Remove the custom ad blocker rule(s) and the page will load as expected.