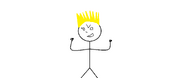 Swang is Jod's worst enemy. Swang likes to annoy people and be annoying, but he especially likes to annoy 
Jod
. Swang has yellow, spiked hair and an anxious personality. He wishes he had a girlfriend but he can never get one because women do not like his personality. Swang once got in a fight with Jod and he beat Jod in the first fight causing people to actually like Swang but then when they realized how "bogus" Swang was, the people started hating him. "This will help me finally gain advantage as Swang!' Jod thought. Another time Swang put makeup on Jod.Then he put pink and purple clothes on Jod. Swang walked up to Jod and laughed out loud. Jod told him to shut up but he didn't listen. 
Ad blocker interference detected!
Wikia is a free-to-use site that makes money from advertising. We have a modified experience for viewers using ad blockers

Wikia is not accessible if you've made further modifications. Remove the custom ad blocker rule(s) and the page will load as expected.